Sugar Creek Ranch was established in the fall of 1995 by Dennis and Karen Miller. We are located in the south-western corner of Missouri. We have mules, donkeys, jacks, driving teams and also offer stud service. If you are interested in any of the above, please drop us a line and we'll get back to you ASAP.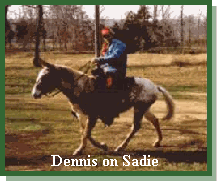 Our ranch is located right on the banks of Little Sugar Creek near the small town of Jane, Missouri. Fishing is said to be good. It fact it is so good that when our family visits from out of town, they spend the majority of the time at the creek, fishing or swimming.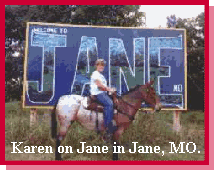 We are also located 1 1/2 miles from Huckleberry Forest, which has a number of great trails. So if you are searching for something special or if you are in the area and want to take a look at our stock, let us know. Maybe afterwards you'd be interested in checking out our local trails or attempting to catch that big bass.